It's been a few days since I last posted about the Women's World Cup, and with the end of the second round of games I thought now would be a good time as any to put together a summary of where each group is at, looking ahead to the final round of games. So let's get right in to it.
Group A
This group has so far been all about the host nation, who with one game to go have already qualified for the knockout rounds. The big question is who will take the second spot from this group. Let's look at the average per game for shots and passes for these teams so far.
Team Name
Goals
Shots
Shots on Target
xG
Passes
Successful Passes
Pass %
France
2.0000000
18.20000
12.20000
1.24
517
405
77%
Norway
1.8000000
13.20000
9.60000
1.74
463
349
75%
Korea Republic
0.3333333
14.66667
10.66667
0.74
454
359
79%
Nigeria
0.2500000
8.00000
4.25000
0.41
280
172
60%
a Table 1: Group A summary
From this we can see that the top 2 of the group, France and Norway, are not necessarily outperforming Nigeria and Korea in terms of these simple stats. Norway for example, have on average had less shots than both of the teams below them, but having scored 2 goals are currently sitting in 2nd place. Korea have really failed to get going in this tournament and will need to find something special in their final game to get through to the knockout stages.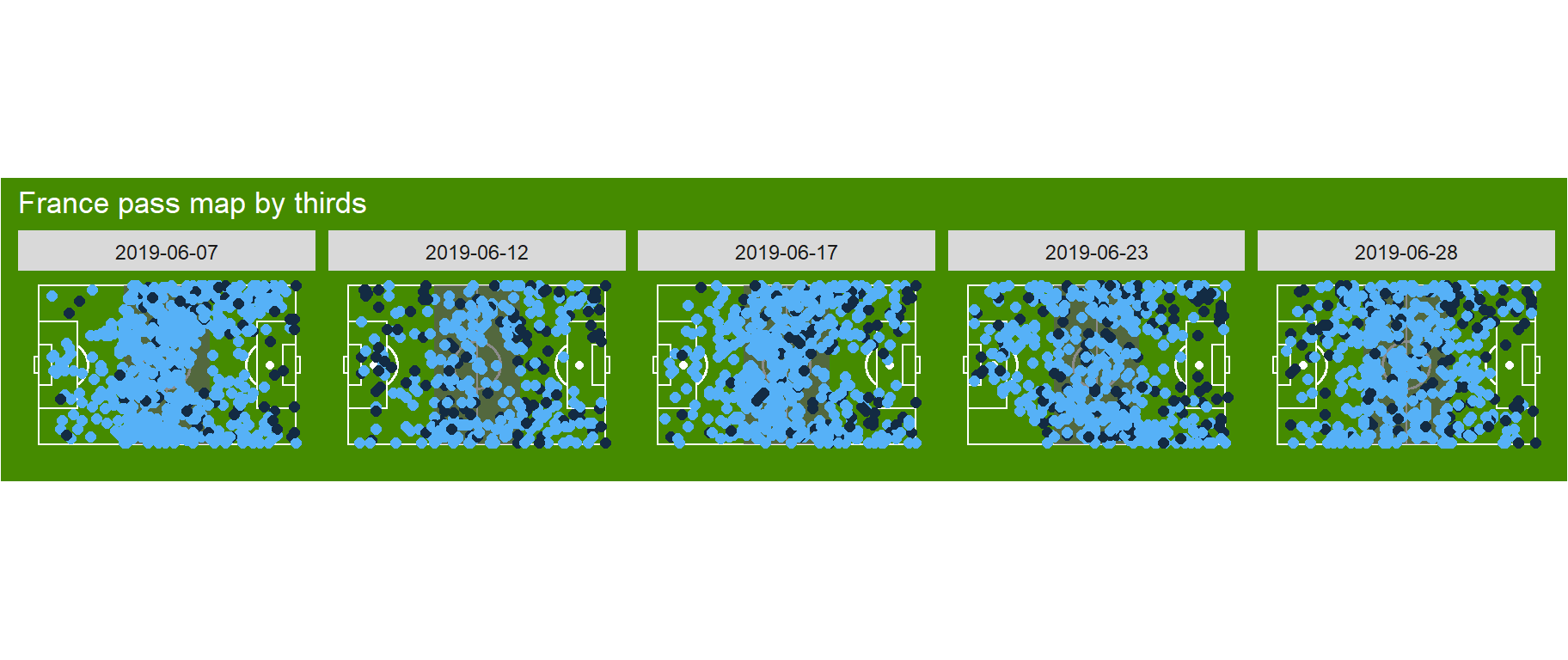 France so far have played two very different games, being able to keep a high amount of possession against Korea they controlled the game. Against Norway it was a different story, completing half as many passes but creating better scoring opportunities to score with the possession they had. France are likely one of the favourites in this tournament and will look to continue that form against Nigeria in their final match.
Group B
This group has so far been about Germany managing to find away to win under any circumstance and Spain showing how much they have improved in recent times. Let's look at the summary:
Team Name
Goals
Shots
Shots on Target
xG
Passes
Successful Passes
Pass %
Germany
2.0000000
15.400000
11.000000
1.71
495
376
75%
Spain
1.0000000
18.500000
13.750000
1.35
542
415
76%
South Africa
0.3333333
5.666667
3.333333
0.29
356
235
64%
China PR
0.2500000
10.000000
6.500000
0.52
436
304
68%
a Table 2: Group B summary
So far Spain has been the surprise of the group, beating South Africa 3-1 and then narrowly losing to Germany 1-0. In both games, Spain outpassed and outshot their opponent showing their attacking threat. Germany however, showed their class against Spain to hold on and take a narrow victory. China will be looking to steal the game from Spain in their final match, which will be an interesting battle for 2nd in the group.
We can see Spain have taken a high number of shots, and I would expect that to continue against China. They have created opportunities with high probabilities (0.07) which really highlights their attacking potential. I would be surprised to not see Spain progress automatically following the final round of matches.
Group C
Group C has so far been an interesting group, with a couple of upsets and drama filled matches. Let's look at the summary for Group C:
Team Name
Goals
Shots
Shots on Target
xG
Passes
Successful Passes
Pass %
Australia
2.2500000
14.25
9.000000
2.21
600
478
80%
Italy
1.8000000
10.60
7.000000
1.20
367
253
68%
Brazil
1.7500000
12.75
8.500000
1.40
450
343
76%
Jamaica
0.3333333
10.00
5.666667
0.53
313
204
64%
a Table 3: Group C summary
So far, Italy has been the surprise of this group coming from behind to beat Australia in the dying seconds in their first game and continuing their form to beat Jamaica convincigly. Whilst Brazil with one of the worlds best players in Marta were unable to get passed Australia, who stunned the Brazillians with a comback of their own to win 3-2. This group could go anyway leading in to the final matches, with Italy to play Brazil, 1st place is wide open. Australia will be the favourites against Jamaica and expected to win convicingly, so top place is within their grasp.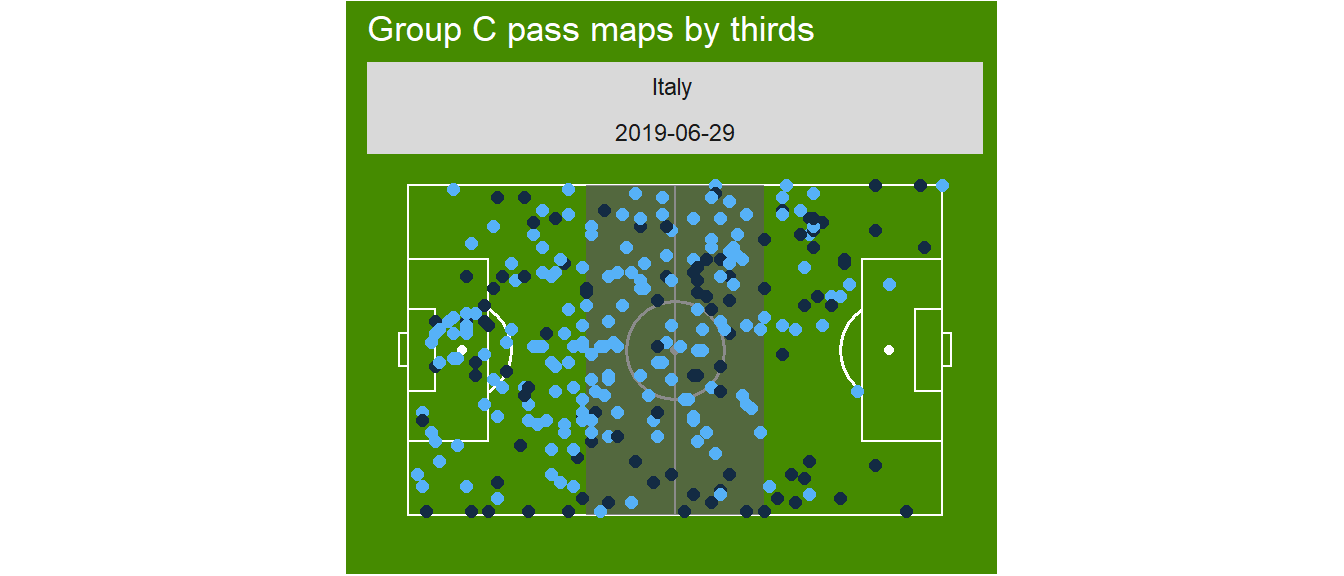 In each of their last matches we saw different outcomes. Brazil had a high amount of position in their first third, but failed to convert that to possession in the final thrid. Australia appears to have come down the right hand side of the pitch a lot, and maintained possession well through the middle third. Whilst Italy maintained possession well in their first and middle thirds, converting the minimal possession they had in the final third in to goals. Will be interesting to see how the final day of matches finishes in this group.
Group D
So far Group D has been interesting, with Scotland pushing teams close but unable to get outcomes and Argentina providing some tests for higher ranked nations. Let's look at the summary:
Team Name
Goals
Shots
Shots on Target
xG
Passes
Successful Passes
Pass %
England
1.8571429
12.71429
8.714286
1.65
565
451
80%
Scotland
1.6666667
10.66667
8.666667
0.76
435
334
77%
Japan
0.7500000
13.50000
7.250000
0.89
566
468
82%
Argentina
0.6666667
6.00000
4.333333
0.60
302
195
63%
a Table 4: Group D summary
England and Japan have kept the ball well and maintained high pass completion rates, with Scotland also not too far off the top two teams in this group in this respect. Argentina have created minimal chances, but managed to hold Japan to a draw in their first match. The final matches in this group see England vs Japan and Scotland vs England, with the first match being the highlight and battle for the top of the group. England will need to convert their chances to take this one, but if they continue to create the number of chances they have they should be okay.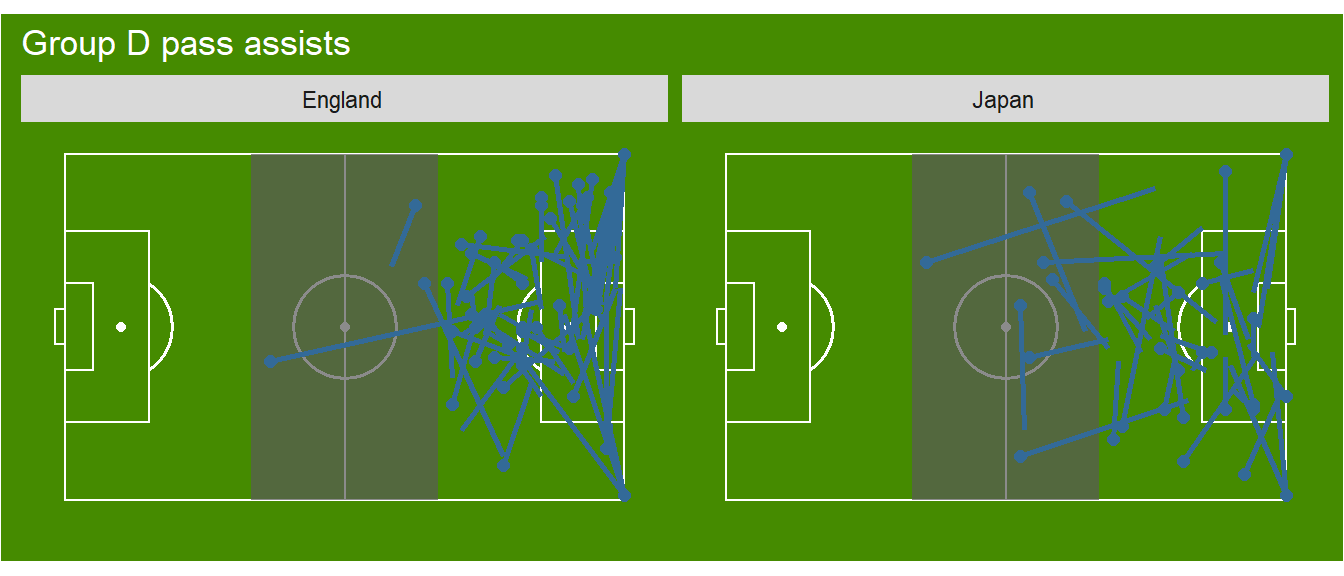 A number of Englands key passes are coming from the left hand side of the pitch, where as Japan don't appear to have an obvious attacking threat or direction. This game will be incredibly interesting to the outcome of this group.
Group E
Group E looks to be the battle of The Netherlands and Canada for top of the group. Both are two from two so far and will face off in their final match of the group. Let's look at the summary:
Team Name
Goals
Shots
Shots on Target
xG
Passes
Successful Passes
Pass %
Netherlands
1.571429
12.285714
8.428571
1.11
551
427
77%
Canada
1.000000
15.250000
9.500000
1.27
576
452
78%
Cameroon
0.750000
10.750000
5.500000
0.90
310
183
58%
New Zealand
0.000000
5.666667
4.000000
0.33
365
234
63%
a Table 5: Group E summary
Both The Netherlands and Canada have outperformed their opponents so far, with the pass count and completion convincingly higher. Canada has outshot their opponents quite easily so far, but haven't really created convincing opportunites to capatilise on their dominance. The Netherlands managed to just scrape past New Zealand in their first match so it will be interesting who tops this group after the final matches.
Both canada and the Netherlands have created a number of chances, but many of these have been with low chances of scoring. Canada created a number of these against New Zealand with an xG of 2.44. They will need to convert these chances against the Netherlands if they have any hope of topping the group with a win.
Group F
Group F has been dominated by the United States so far, with Thailand the current easy beats. Let's look at the summary:
Team Name
Goals
Shots
Shots on Target
xG
Passes
Successful Passes
Pass %
United States
3.5714286
18.571429
13.000000
1.97
503
389
76%
Sweden
1.7142857
15.000000
9.428571
1.12
460
340
72%
Chile
0.3333333
11.333333
5.666667
0.66
365
266
70%
Thailand
0.3333333
4.333333
3.000000
0.18
276
170
61%
a Table 6: Group F summary
At the time of writing, I was missing the 2nd group game for both the United States and Chile, but we can see that the United States were on fire against Thailand. Creating an xG of 5.12 and scoring 13 goals. This is an excellent conversion rate and signals a team in form and ready to win back to back world cups. Thailand managed to score a goal against Sweden and will be happy with their efforts going in to the final round of matches. The final match of this group will be a battle, with the United States and Sweden, with their match at the Olympics being full of drama with how the swedes approched that match.
As soon as I have access to the data from the final match I will update this post. But for now I am looking forward to the outcome of the final group matches. So far this tournament has been another step in the right direction for women's football around the world!